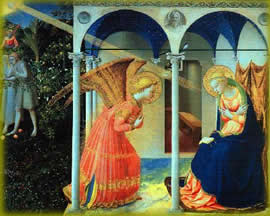 The Annunciation by Fra Angelico
In the sixth month the angel Gabriel was sent from God to a town in Galilee called Nazareth, with a message for a girl betrothed to a man named Joseph, a descendant of David; the girl's name was Mary. The angel went in and said to her, 'Greetings, most favoured one! The Lord is with you.'

Thus begins the story of one of the most momentous 'visitations' of human mytho-history. As told in the gospel of Luke in the Christian New Testament, Gabriel's earth-shattering announcement is an event that is celebrated by Christians each year during the festival of the Annunciation.
In the picture to the left, Mary is impregnated by a beam of light coming from heaven.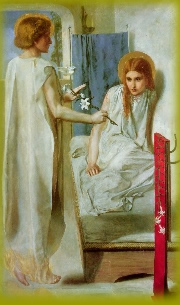 The Annunciation
Dante Gabriel Rosetti
[Mary] was deeply troubled by what he said and wondered what this greeting might mean. Then the angel said to her, 'Do not be afraid, Mary, for God has been gracious to you; you shall conceive and bear a son, and you shall give him the name Jesus.'

In the quote above, the author of the gospel describes Mary initially responding with the fear and dread that might be typical of such an experience; that Mary goes on to listen and graciously accept her fate—"I am the handmaid of the Lord," she tells him "do with me what you will"—is all to her credit, regardless of whether you take the story to be historical fact or myth. If we can forget for a moment the human Jesus and think instead of the archetypal figure of the Christ—the 'chosen anointed one' who brought to humankind a revolutionary world view—it takes considerable courage to nurture and protect the radical vision symbolised by such a child.