Patiently I wait for her,
at the edge of twilight
where shadow is blue
and moonshine spills
across the water making me
foolish and drunk.

Night is her season,
and she sails along to meet me,
the woman adorned
with white shell and coral;
huddled on the sandbank
we converse about dreams.

When I was a child
her ivory skirt would come
billowing through my window
and, shivering in awe in my
pink flannel sleeper,
I'd greet her at the sill.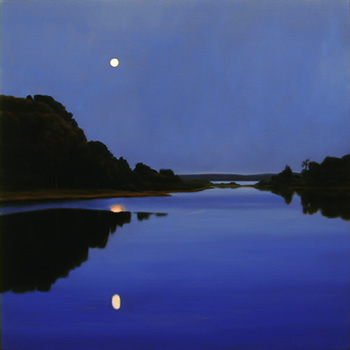 Blue Moonlight, by April Gornik
For years she has
abided my defenses,
ignoring my denials,
treasuring all the fossils,
the calcified tears
I now measure in bulk,

and when I most feared
the drowning of the spark,
I would pick up her talisman.
Listen, she would whisper
from the conch's rosy oracle,
It's the changing of the tide.

Now, at the new moon,
we sit like conjoint twins,
women in waiting

for the hidden pregnant seed:
we'll nurture it in darkness
before offering it a birth.

I have lived to an age
she no longer looks old;
in the pulsing of my blood
I often feel her presence,
grief surfacing in waves,
and solace from grief.

An opalescent light
spills from my heart
into her basket.
It's a fathomless pool:
on a night like this
the moon's its reflection.